Are you looking to start an online business? You are at the right place if yes. Starting your own business is definitely an exciting journey and getting started with your online business is the most crucial part. There are thousands of resources online which discuss in detail about starting an online business, that can be overwhelming for you. But don't worry! In this article, we're going to discuss eight simple tips on how to start an online business.

Are you ready to get started? Let's go then!
1. Conduct market research
If you're serious about starting an online business, it's important to take some time away from the keyboard and reflect on what it is that you're going to be doing.
You most likely have already come up with an idea for your online business. However, if you're still in need of inspiration, your first step should be to try looking for a need.
Ask family, friends, peers, and forums whether there are any services, products, or content that they'd love to be able to access on the internet, but haven't been able to find.
Similarly, you should think about your own experiences. Has there ever been a time when you'd searched for something online, but hadn't come across a good enough result?
Before committing to investing time and money into your idea, you'll want to know that it's got the potential to be successful.
2. Start a business that fills a need
The second step in how to successfully start an online business is finding a need and filling it, as we explain in our blog here.  A lot of people who are just starting out make the mistake of looking for a product first, and a market second.
To increase your chances of success, you should start with a market. The trick here is to find a group of people who are searching for a solution to a problem, but not finding many results.
It's a good thing we live in the digital age. The internet makes this kind of market research easy:
A great idea to do that is to visit online forums to see what questions people ask and what problems they're trying to solve.
You can also do some keyword research to find keywords that a lot of people are searching for, but don't have a lot of competition from other sites.
Check out your potential competitors by visiting their sites and taking note of what they're doing to fill the demand. Then you can use what you've learned and create a product for a market that already exists — and do it better than the competition.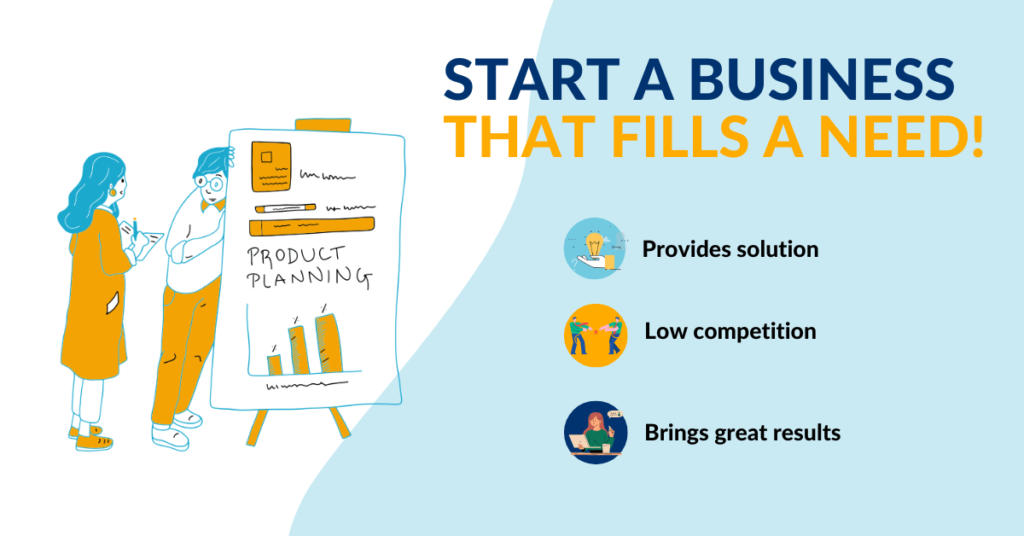 3. Select a Good Business Name
The third step in starting an online business is to make sure that the name you want to use for your company or brand doesn't already exist. 
It is important to know if your business name has already been taken by another entrepreneur and to find an available business name before you start your own business. 
A good thing to do before you start your online business is to search both the availability of the business name within the NUANS database and also search the Domain system to ensure the name is viable under both registrant systems. 
4. Validate your business idea
There are a lot of reasons that business ideas don't get off the ground, but the biggest reason is that people don't test to see whether customers even want their product or service.
So they spend a lot of time, money, and resources on building their business, only to find out later that nobody wants to buy.
So if you really want to take your idea and build a profitable business out of it, the most important thing for you to do is to validate that people are interested in what you have to offer and that they will pay for it
There are 5 key steps in order to validate your business idea like Understanding Customer Problems, Create your Minimal Viable Offer and Pre-sell It and more.
You can read all about it in our blog post here.
5. Choose and register a domain name
A domain name is the address of your website. It's what people type into their browser to get to your site. 
The next step in how to start an online business is to register a domain name. 
Once you have chosen a name for your new venture, it's time to register it with a domain registrar. 
There are many different types of domain registrars out there on the web, including GoDaddy, Namecheap, Hover and more. 
It's best to choose one based on price (some registrars have lower prices than others), but also make sure they offer what you need – such as email hosting and SSL certificates.
6. Register for taxes
This is the 6th tip on how to start an online business.
Organize tax IDs and register with the tax office. It's best to get this paperwork done right at the start. If you don't already have one, then it's best to get a company number before starting out, as this will make things easier when it comes to bank accounts and taxes later on down the line.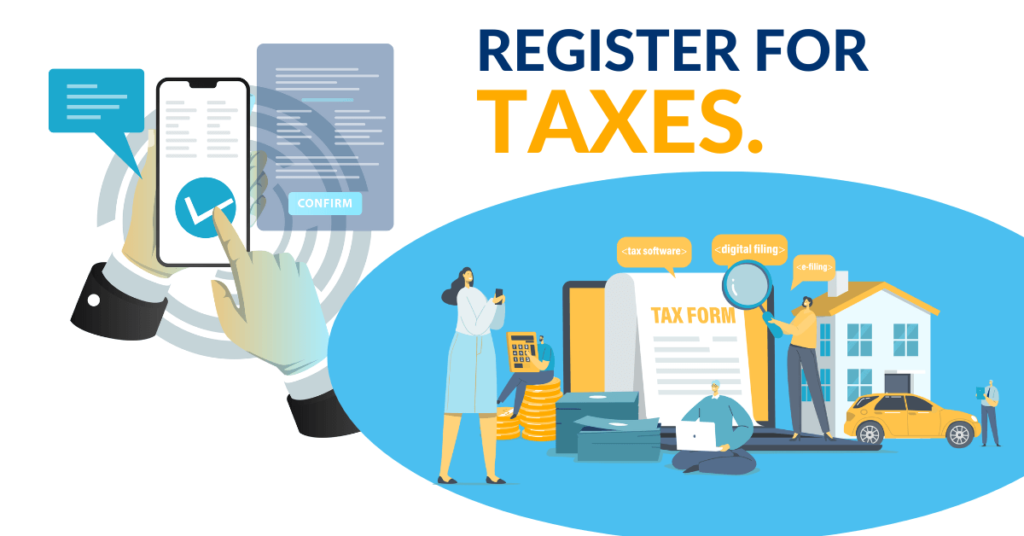 7. Build your website
While you might imagine this to be a massive technological undertaking, building a website can actually be pretty simple. That's what Startups tells us.
Plus, it's unlikely to break the bank – domain names tend to cost less than £10 per year, while many website builders can be paid for with manageable monthly subscriptions.
There are three main ways to go about getting a website up and running:
Of course, this is hard work, and you'll need all the right coding knowledge – but it'll save you money and ensure you keep full control of your website. If you go down this route, you'll need a domain name and hosting provider.
Simple to use, many of these tools will take you through the entire website building process, from registering a domain name to designing your site's layout using templates or drag-and-drop tools.
This is a good option if you'd like the guidance of an expert, although it may mean you'll have to rely on them for fixes whenever something goes wrong or needs to be changed. Costs vary – top developers will be expensive, but you might find a student or graduate who's willing to charge a low rate in exchange for the experience.
8. Financial analysis.
The last tip on how to start an online business is financial analysis. We all know that ultimately, every business is about making money, as we explained in our previous blog. So proper revenue projections, break-even analysis, and cash flow analysis have to be done and documented.

This is often what entrepreneurs find most daunting, but it doesn't have to be as intimidating as it seems.
Let's dig deeper into that:
Important points regarding all the issues discussed in the business plan should be mentioned briefly in the executive summary.

A typical financial plan will have monthly sales and revenue forecasts for the first 12 months, and then annual projections for the remaining three to five years.

Business financials for most startups are less complicated than you think, and a business degree is certainly not required to build a solid financial forecast.

That said, if you need additional help, there are plenty of tools and resources out there to help you build a solid financial plan.
Conclusion
In this article, we talked about 8 simple tips on how to start an online business. These steps can go a long way in helping you start your own online business.
Before you go, I want to offer you something. It is a program which can help you validate your business idea before launching.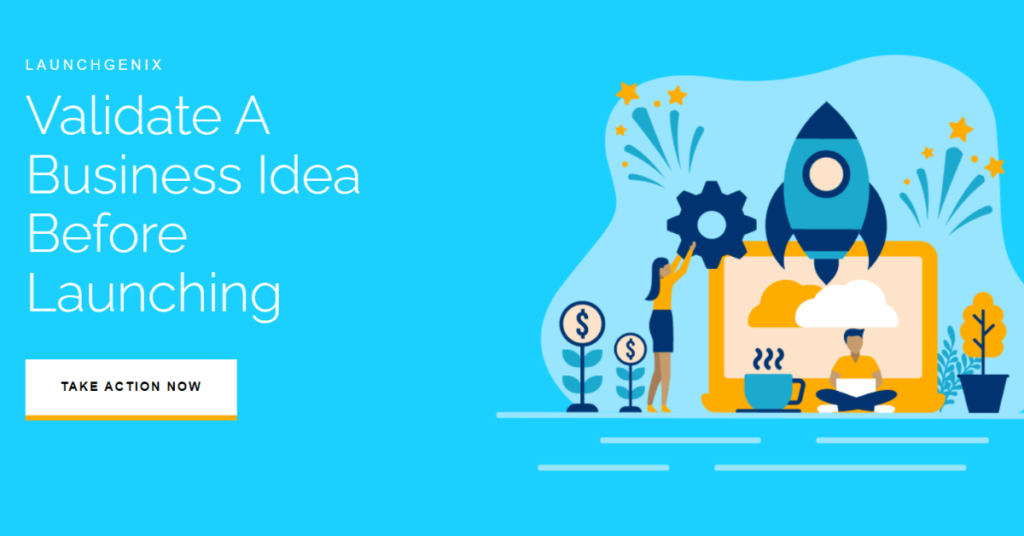 Launchgenix is a 3-month 1:1 coaching accelerator program for anyone who wants to learn how to validate and launch their business idea the proper way. It is specifically designed to help you validate your business idea BEFORE you even start building your product or service.
At the end of the course, you will have a profitable business idea that you can take to the market. And not only that, but you will have a clear understanding of how to successfully pre-sell your digital product or service to your IDEAL audience.
It STOPS you from wasting your time, money, energy, and resources on building a business that WON'T ever sell.

You can read more about it here.
Now, I'd love to hear from you.
Have you already tried creating your business plan by following these steps?
I want to know about your journey. Let me know in the comments below and as always feel free to contact me!