A service-based business can be tricky. Some of the benefits of a service-based business are good, while some others need to be watched out for in order to avoid any problems or issues down the road. A service is any action your business performs without another party. This means no goods, physical or tangible, are being delivered to anyone, and nothing getting produced, built, or manufactured.
In this blog, we're going to discuss seven key benefits of starting a service-based business. Are you ready? Let's go!
What is a service-based business?
Before we begin, let's talk about what a service-based business is.

According to Interviewbit, Service-Based Companies are the ones that give customers or clients a solution in the form of amenities (any desirable feature), skills, and/or expertise based on their needs. The important aspect of this type of company is the client. They do not prepare anything specific before the problem arises on the client's end. Their sole aim is to ensure that the service provided to the client is of the best quality. 
Let us understand this through an example. 
Say you run a company, and you require software to ensure that your work is automated to some extent. At such times, you can approach the company ABC to consult and help you out with the same. ABC will come up with a solution that helps your company work smoothly. A few notable service-based companies are Infosys, Tata Consultancy Services, Wipro, Tech Mahindra, etc.
1. Easy to Start Up And Set Up
Starting a business in the service industry is relatively easy in comparison to other business industry types. A service industry business requires little more than a license, phone, and you and your offered skills and expertise in order to get up and going. This not only makes it easier but makes it more affordable to get started.
It's easier to dominate an existing market than create one from scratch. If you have a specific skill set or expertise that's needed in your community, there's no need to spend money trying to market yourself when there's already plenty of demand for your services. You can just focus on providing them at a high-quality level and focus on building your reputation as an expert in your field.
You're not competing with other businesses directly for customers; instead, you're competing with them indirectly by offering better prices/service/quality than they do — which means that when they lose customers because of poor performance or outdated methods, there will be an opportunity for you to step in and win over those clients instead!
 2. Flexible Hours
Since you will be working for yourself, you are in charge of your own schedule and hours. You can work when you want, where you want, and how much time you want to put into your business.
The biggest benefit of being a service-based business is that it allows for more flexibility than other types of businesses.
Because jobs are taken as they come rather than having a set schedule of hours dictating when you need to be at your place of work, working in the service industry allows you to have flexible hours, which in turn allows you the opportunity to develop your job skills and education further, spend more time with your family, and other accomplish other important tasks at times you might not otherwise be able to.
If you are interested in starting a business but have been discouraged by the idea of having no job security or steady income, then this may be the right option for you!
3. You get to be your own boss
The third step is all about clarifying what your business plan is, as Careerbright mentions.
This is one of the top reasons for getting not just into the service business but any business. Being the boss, you are in effect in control of your time, resources and future, your destiny. No more being answerable to higher authorities, no more having to adhere to rules and regulations laid out by someone else. You can plan and organize your life according to your wishes.
A major selling point of the service business is that there is no end to the kinds of service-based business ideas to choose from. From child care to pet care, VA services to resume writing, or domestic services such as housekeeping or errand service, the list just goes on and on. If you have a skill or are good with anything and you feel that there is a market for selling it, then it is an option definitely worth exploring.
In most instances, the ease of setting up the business and the relatively low investment required, especially if you are running it out of your home, is a major contributing factor. If you have some spare space or room, then with a few adjustments and changes, you can easily run your business. For example, if you are planning on becoming a VA, all you really need is a computer with an internet connection, a phone and fax machine, a desk and chair, and some basic office stationer
4. Minimum Capital to begin with
There is a reason why people still prefer to buy services over physical products. Services are intangible; they can't be consumed or stored. You can't keep them in the closet or sell them to someone else if you don't want them anymore. At the same time, they are also more valuable than physical goods because they add value and improve our lives in various ways.
Service-based businesses are often compared to product-based businesses as they both have their pros and cons. However, service-based businesses have some key benefits that make them more attractive to entrepreneurs.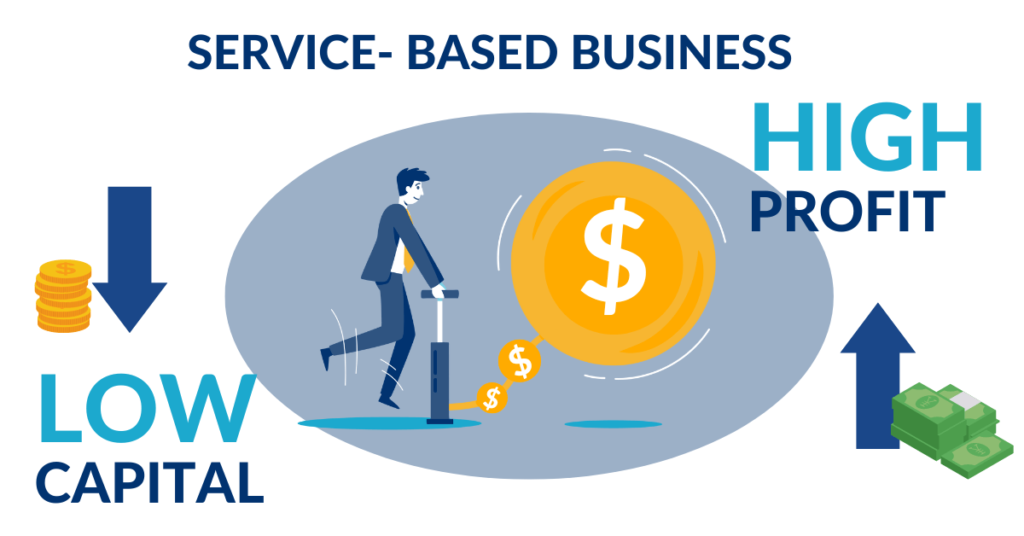 You just need to cover the cost of your workforce and overheads. Even these costs can lower down if you manage to work out with remote teams through a staff time tracker. Though if you are starting out as a single person, at the initial stages, you can work as a sole owner who works from home and puts in as little as a couple of hundred dollars for the sake of marketing that includes a website, brochures, and etc. You can become cash-flow positive as soon as you sign your first customer.
Compared to other businesses like manufacturing or retailing, where much capital is required, in the services business, there is no such capital requirement. For example, if you want to start a restaurant business, then you will need money for rent, utilities, etc, but in the services business, all that is required is your talent and knowledge along with some basic equipment such as computers or laptops, which are easily affordable by many people these days.
5. Focusing on Client Results
The next benefit of a service-based business is that you can really focus on getting your client the results that they're looking for.

That way, as you go and build your service-based business over the years to come, you're building a business that will have consistent referrals from the friends and family you've helped because they get a lot of value over your service and won't hesitate to recommend their friends that are looking for a similar result.

This will ultimately give you confidence as you build your business and help other people down the road.

And in the beginning, when you're starting a service-based business, the administration and operational side of things is usually pretty low on the amount of time it takes.
6. Working With Different Clients:
Working with a variety of clients allows you to change up your routine periodically, so you're not focused on the same tasks day in and day out. This makes for a more interesting work environment for those who tend to get bored easily or like switching things up every once in a while.
Working with different people can help you develop new skills and build relationships. You might learn something from one client and use it for another client. If you have connections in different industries, this can help you develop your business as well as connect with others who may be able to help you grow your company further down the road.
By working with multiple clients at once, you can gain experience on how each type of customer operates. For example, if you have a client who wants their website redesigned every six months, this gives you insight into how long it takes to create new designs and where they need changes made on each update. This could also give you an advantage over other designers who may not understand how often websites need to be updated because they don't have experience with frequent updates themselves.
You'll also gain experience when it comes to dealing with customers and their needs!
7. Financial analysis
We all know that, ultimately, every business is about making money, as we explained in our previous blog. So proper revenue projections, break-even analysis, and cash flow analysis have to be done and documented.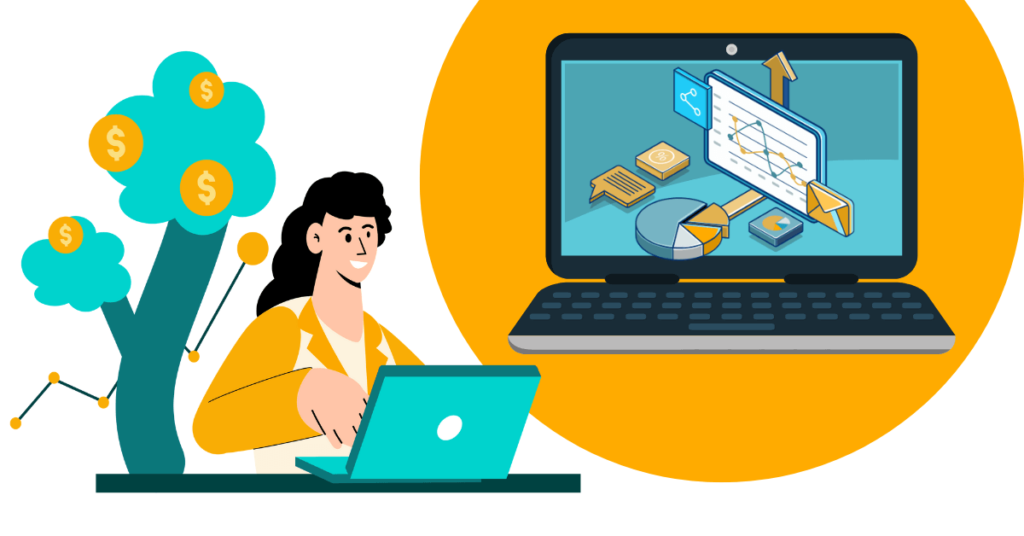 This is often what entrepreneurs find most daunting, but it doesn't have to be as intimidating as it seems.
Let's dig deeper into that:
Important points regarding all the issues discussed in the business plan should be mentioned briefly in the executive summary.

A typical financial plan will have monthly sales and revenue forecasts for the first 12 months and then annual projections for the remaining three to five years.

Business financials for most startups are less complicated than you think, and a business degree is certainly not required to build a solid financial forecast.

That said, if you need additional help, there are plenty of tools and resources out there to help you build a solid financial plan.
Conclusion
As you can see, there are a lot of benefits to starting a service-based side business.
It's really going to help you learn the fundamentals of doing business, so you can really focus on the core things in the business, instead of some of the other admin and operational aspects that are heavier and some of the other models.
Did you find this article useful? Let me know in the comments below! And as always, feel free to contact me with any questions.