Best SEO practices can help you to rank higher and get your website seen. If you are looking for the best SEO tips, you've come to the right place.

So many businesses are struggling with SEO because they're doing it the wrong way… and wasting time, money, and energy on tactics that don't work. This article will discuss nine ultimate SEO practices that will pay off big time. Are you ready? Let's go!
1. Perform Keyword Research
Keyword research is one of the key aspects of SEO practices, as AIO SEO mentions. You want the keywords on your page to be relevant to what people are searching for so that Google will rank your content on them. 
Think about which words and phrases represent your website and business the best. What do you do? What products and services do you offer?
For example, you might come up with "best protein powder" if you sell fitness supplements or "plumbers in Lake Worth, Florida" if you're running a local plumbing business.
But if you're only guessing what people are searching for, you're wasting your time. You'll need to analyze your keyword's popularity and search volume. That way, you can see how many people are searching for that particular keyword and how easy or difficult it is to rank for it.
Luckily, several tools are available to help you get accurate data on any keyword. You can use a free tool like Google Keyword Planner or paid services like Semrush and Ahrefs, which have extra tools to monitor your search performance. 
That said, as Google becomes smarter, there's a greater focus on relevance and intent than on matching the exact keywords. This means that if your content doesn't match the search intent, it simply won't rank in search engines.    
You must try understanding what users are searching for and the meaning behind their searches.
2. Provide a user-friendly design (Mobile & Desktop)
Several factors can affect how high your site ranks on Google.
To ensure that your site ranks well with Google, you must maintain its user experience.
A website's user experience (UX) is how easy it is for visitors to use and navigate through the site. This can include things like making sure links are easy to click on, and pages load quickly.
Google wants users to easily find what they're looking for when they land on a page, no matter their device. Aim to make it as easy as possible for someone on their phone to use your site — and just as easy on a computer web browser.
Is it easy to navigate your site? Is it easy to scroll and click links? Does your long-form content provide a table of contents or an easy way to jump around? Sometimes when you build a website for your desktop users only, you don't get a chance to see how it looks on a phone.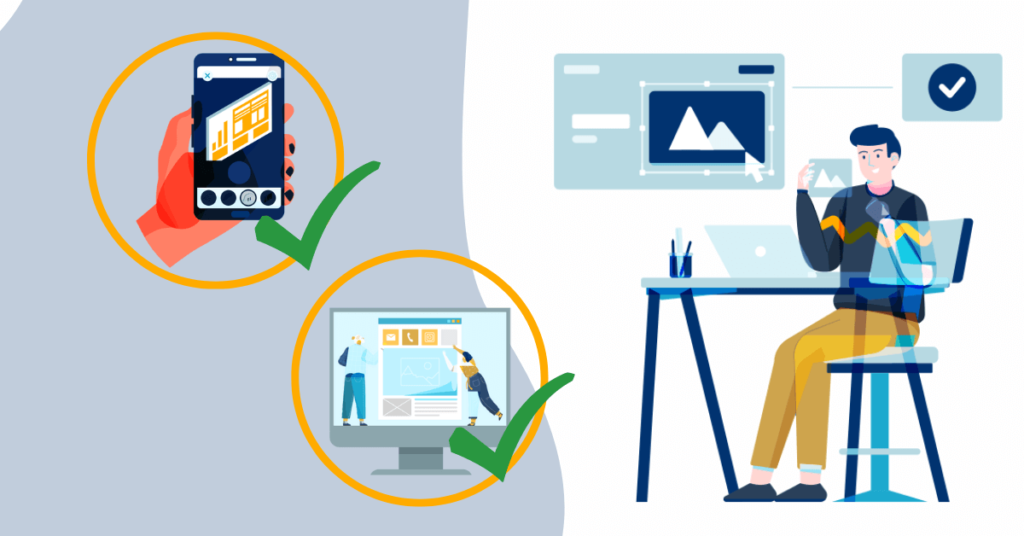 Thankfully, content management systems like HubSpot and WordPress make it easy to ensure your site's user experience is consistent and easy from the start.
3. Provide useful product or service information
One of the best ways to improve your search engine optimization (SEO) is to provide good information to the search engines.
Search engines use many different factors when deciding how to rank websites in their search results, but some of the most important is how well a website's content matches what people search for and what types of other websites link to it. Search engines may also look at how quickly your site loads and whether it has relevant content that answers users' questions.
Consider what information would be useful to customers considering your offerings. This could include your products or services selections, how much they cost, and, if relevant, how much inventory you have or delivery options. Make sure that this information appears on your website so that people who visit have a complete understanding of what you offer.
4. Use descriptions that your potential customers can relate to
Google for small businesses has an excellent explanation about it. Let's take a look:

Let's say that you know people often come to your children's clothing store looking for items in a particular color or character. When you list your products on your website, include this type of detailed information. For example, a sweater description might read, "Sparkly purple unicorn sweater perfect for fall nights."
These five SEO tips and best practices are all examples of basic steps you can take to improve your website. You're making changes to help potential customers, and search engines better understand your business. However, sometimes people suggest SEO methods that don't add any value to website visitors and are only there to try to manipulate the search results. For example, someone might try to put invisible text on a page to make a search engine think the page contains something different. Watch out for these tactics that don't add any value to your website visitors and might cause damage to your presence on Google Search in the short and long term.
5. Write Title Tags and Meta Descriptions
The title tag is the name that shows up in the SERP (Search Engine Results Page). The title tag doesn't always need to be the same as the title on your page. Ideally, your title tag is between 50 and 60 characters. Important keywords should come first to catch the attention of organic searchers. 
The meta description is a snippet of text after your page's title in the SERP. It's a description of your piece of content that draws in the searcher. While it may not directly help your web pages climb the ranks in search engine results, it does help convince would-be visitors to click through to your website. Yes, you can include keywords, but write it in a way you think would convince someone to click on your website.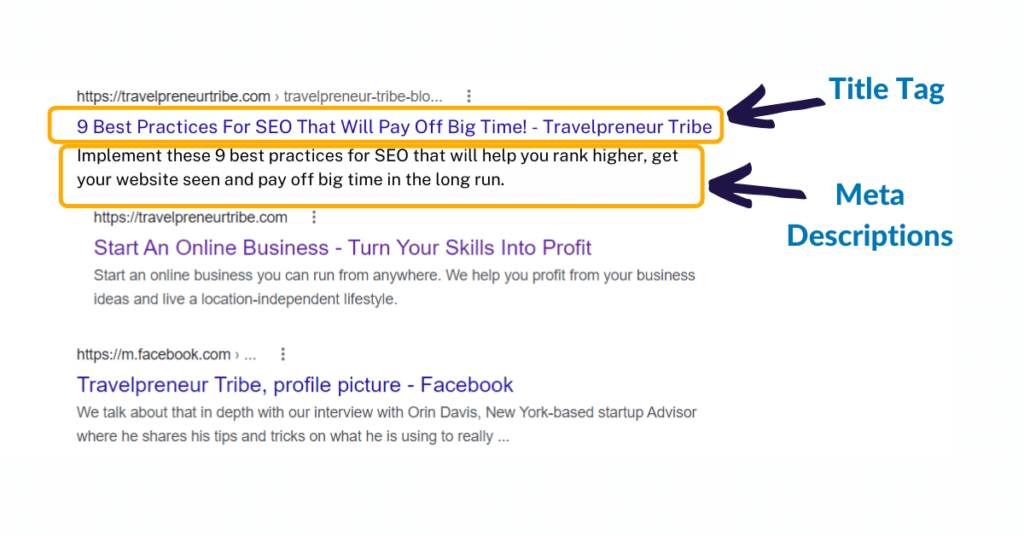 Your URL should make sense, contain your target keyword, and not be too long or full of unnecessary words like "click here" or "read more" or "click this link now" because all these things can hurt your SEO performance. 
Make sure that everything on your page is readable by humans (no code!). A good way to test this is with Google Webmaster Tools' Structured Data Testing Tool."
6. Fix Dead Links Or Broken Redirects
This is a crucial step to getting the best practices for SEO. 
A dead link sends a visitor to a nonexistent page. A broken redirect points to a resource that might no longer be there. Both provide a poor user experience and prevent search engines from indexing your content.
You should check for broken links and redirects when you update your website or blog. If one of your pages has broken links or redirects, it can be fixed by following these steps:
1) Open the "Settings" tab on the Yoast SEO plugin settings page.
2) Click on "Redirects" under "Advanced settings."
3) Click on "Check all existing redirects" at the top of the redirects table. This will check all existing redirects before you start modifying them.
7. Improve User Experience
According to Semrush, Google keeps a close eye on how users engage with your pages. As such, user experience is one of the key factors in improving your search rankings. 
As noted above, page speed is vital in improving visitors' user experience on your site.
Here are a few other SEO tips to ensure that users have a good experience when they visit your site:
Use subheadings: Proper use of subheadings (H1, H2, H3) helps Google understand your content better and makes your text more accessible to readers.

Make your content visually appealing: Several studies indicate that visuals help people understand your content better. Use relevant images, videos, and screenshots to illustrate your points.

Avoid using intrusive popups: Popups are not just bad from an SEO perspective but also end up annoying your visitors. Since 2017, Google has penalized sites that use intrusive popups, so it's best to use them sparingly.

Use white space: White space is fundamental to good design. According to the Interaction Design Foundation, white space (or negative space) improves legibility, branding, and focus. So consider using white space to make your content more legible and grab user attention.

Make your site mobile-friendly: Mobile-friendliness is paramount in user experience as Google uses mobile-first indexing. You can use Google's mobile-friendly test to see how your site fares.
8. Optimize Your Site's Loading Speed
The next step in the best practices for SEO is optimizing your site loading speed.

Search engines look at speed as a ranking factor.
Loading your site fast is essential, so you don't lose visitors.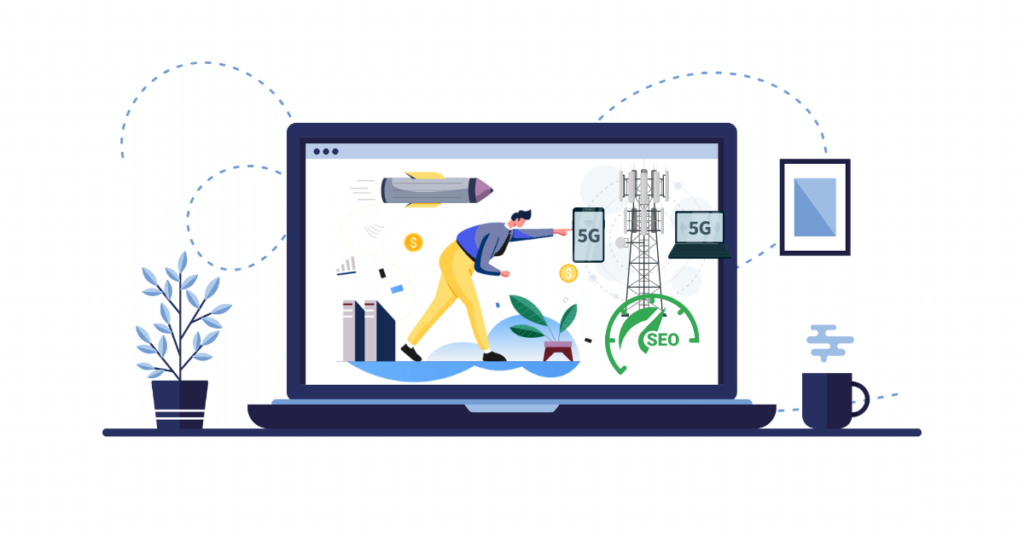 The average attention span of a human being is now 8 seconds, so if your site takes longer than 8 seconds to load, you could be losing traffic.
Some studies show that you can lose a 7% conversion rate for every extra second your site takes up to load.
That can be devastating!
Fixing speed issues includes multiple things such as image size and JavaScript, which we will cover soon. However, the focus shouldn't be on fixing issues or checking bullets provided by tools but on speed itself. In seconds.
Another thing that affects your site speed is the server. Make sure you have a good server. The more traffic you drive to your website, the better the server should be to handle it properly
9. Marketing Plans and Brand Recognition
Regarding SEO, backlinks are the currency of the internet. Without them, it's almost impossible to rank high on Google, but with them, you can easily dominate your competition.
You should focus all your efforts on building high-quality backlinks that can improve your chances of ranking higher for your target keywords.
But how do you get them?
Here are some best practices for achieving high-quality backlinks:
 Write valuable content and use anchor text relevant to your target keywords. When writing articles, use the target keyword phrase in the first 50 words of the article (or as close to it as possible). This will help Google understand your page and rank it accordingly for that keyword phrase. It will also allow users find what they're looking for faster and more efficiently.

 Link internally from within your site to relevant pages on your site. This helps Google determine which pages are related and gives clues about what kind of content you should be showing up for specific search queries.

Link out to authoritative sites in your niche or industry by mentioning them naturally in the text of an article or blog post (Hint: Use their name, not their URL). If someone mentions a linkable resource like this, it shows Google that there's an interest among users in that.
Conclusion
In this article, we talked about nine crucial SEO best practices that will help increase your search results. Remember that best practices for SEO aren't one-size-fits-all. You'll want to adopt these recommendations to fit your own business, goals, and target audience. I am curious, though. Have you ever tried these SEO practices before? If so, how did it turn out? Were the results what you expected?

Let me know in the comments below if you have any questions and as always, feel free to contact me for any questions you may have.