BECOME FINANCIALLY INDEPENDENT
Transform the future of your business 
BECOME FINANCIALLY INDEPENDENT
Transform the future of your business 
ABOUT US
We are here to help you start and grow an online business that works for YOU. We will teach you how to create the life of YOUR dreams and let you work from anywhere in the world.
Do you want to transform the future of your business and start growing the business of your dreams?
Are you ready to take your business to the next level?
Maybe you've been thinking about it for a while, but don't know where to start. Or maybe you've tried getting started on your own, but always feel like there's something missing. You're not alone.
Our mission is simple: To help people like us build thriving online businesses by providing them with the tools they need—and also by giving them the support they deserve. We believe that when you have a coach or mentor in your corner, anything is possible!
That's why we created Travelpreneur Tribe. A community of entrepreneurs and business owners who are committed to helping each other grow their online businesses and transform their businesses into the future of their dreams.
We will help you start and grow an online business that is scalable and sustainable—and we'll do it from anywhere in the world (because we know how important it is that you work from home)!
Do you want to start scaling the business of your dreams? Let us help!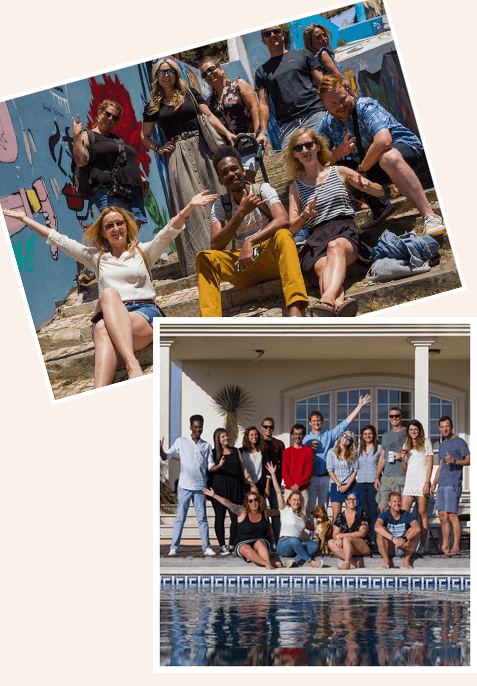 CRAVING FOR LOCATION INDEPENDENT LIFESTYLE?
The inspiration for the Travelpreneur Tribe came from the desire to share my love of travel & tech, AND to create opportunities for people to enhance their lives by starting their entrepreneurial journey.
Our services are designed for motivated, growth-driven professionals ready to stop making excuses and start bringing their vision to life. With our systems built in place, we teach you how you can turn something that you already know and love into a successful online business, so you can make your location-independent dreams a successful REALITY.
Why Us?
What Sets Us Apart?
At Travelpreneur Tribe,  we show everyday people how to create a scalable and successful business that can be run from anywhere in the world. We provide you with real business experience through our team of coaches, mentors and industry experts from various industries that are part of our growing community.
When you join our Travelpreneur Tribe, you join a team of experts who are ready to help you in any area you need to excel to ensure your success.
Join our enriching and challenging environment,  where we introduce you to a new way of learning and teach you in an easy step-by-step system on how to identify your skills and passions and turn your corporate knowledge and experience into a successful online business.
You will cut through all the noise out there, and will not spend too much time, effort and money on starting up. You will get specialized knowledge that gets to the root of what you need to know when it comes to launching a successful service-based business and work from anywhere in the world.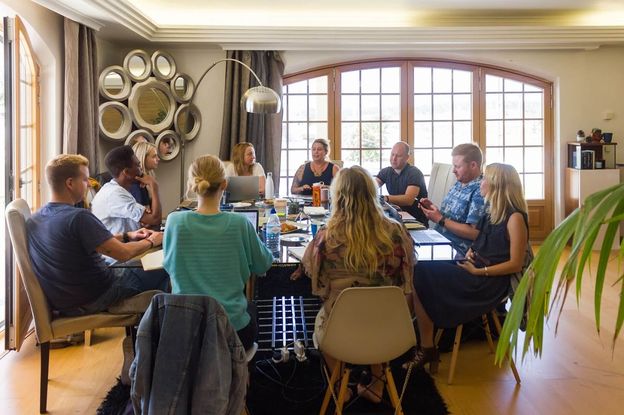 It might sound like a dream – but when you have a team of experienced business leaders supporting you, it is easily achievable! With years of industry experience, our coaches have been featured in publications like the Wall Street Journal, Fast Company, and Thrive Global for their expertise. They help people just like you to become their own CEO.
Get ready to venture into the exciting unknown and tread the path to your dream destination so you can further your business in ways you never thought possible!
MY STORY
How I Got Started
Hi, I'm Mia. I am the CEO and Founder of Travelpreneur Tribe, a company focused on helping YOU – aspiring entrepreneurs turn your existing skills, passions, and expertise into a successful online business that you can run from anywhere.
After spending 15 years in tech, I decided to combine my passion for traveling and technology in the Travelpreneur Tribe and share my secrets and strategies that I have learned over the past years to help you do the same. Escape an unfulfilling 9-to-5 and build your own profitable online business that replaces your salary many times over.
I work side-by-side with you on teaching you what it takes to replace your existing salary BIGTIME, by doing something that you already know and love. With my simple step-by-step system, I will help you define and create your offer so you can enter the market quickly with confidence and support to create a plan to be your own boss and live on your own terms.
MY PASSIONS
Want To Know More About Me?
As a Gemini, I am very easy-going and adjustable and I am willing to try anything at least once. I get easily bored and need constant change, movement, and communication to feel challenged and entertained. That is why I guess I have a lot of personal and professional interests that keep me going.
Here are a few of them that make my heart beat a bit faster!
I love to surf is an understatement. I have been riding the waves since 2016 and I have surfed in different countries but my favorite will always be Waikiki Beach in Hawaii.
I find peace of mind through meditation. To me, meditation is very very complex. I love being lost in the moment – in just focusing on me. It makes me feel empowered and alive.
After a yoga session, I always have the yoga "buzz". I feel peaceful, rejuvenated, and grounded. I love the feel of being grounded and one with my environment and the universe.
There is nothing as liberating and exciting as throwing yourself off a moving plane. The rush of adrenaline I feel as I am falling down and letting go of everything around me is worth the thrill every time. I feel so small in comparison to everything around me and makes me appreciate the moment every time.
Dancing has literally changed my life. It made me feel more confident, happy and fulfilled with life and everything around me. I have been a dancer for over 10 years and every time I hear salsa or bachata my heart fills with extreme joy and my body starts moving and vibrating no matter where I am.
I speak four languages!!! I am fluent in English, Croatian and Spanish and can get by in Italian. In the past I have also learned German, Japanese and Korean. I feel through knowing different languages, you can learn the culture and get to know it's people on a deeper level.
OUR TRIBE
Meet Travelpreneur Tribe Mentors
At Travelpreneur Tribe we are committed to build a community of entrepreneurs and industry experts to support you in growing your business. Their guidance provides priceless support for new entrepreneurs where they bring in fresh views, ideas and strategies that will help you on your entrepreneurial journey.
Newsletter
Subscribe For Tips On How to Start An Online Business