Start an online business with no money. You might be wondering how is that even possible? Is there truly a way to start a business with no money or credit? If so, what does one have to do?
We often have a desire to start a business, but we do not know how to start and what is the list of things needed on how to start an online business with no money 
So now you are probably wondering what are some things I need to start an online business with no money. Well don't worry we are going to go in depth and analyze the things you need to do beforehand and share some business ideas to help you get started.
1. Validate your business idea
One of the first things before you even start your business is to make sure to validate that there is a demand for what you are offering and after you validate that there are people interested in buying your products and services, then you can actually start setting it up from a business and legal perspective.
You can learn more about how to validate your business idea on our dedicated blog article on the 5 Steps on How to Validate A Business Idea
2. Create A Business Plan
Sometimes it can be overwhelming just to think about all of the activities that need to happen to get your business idea off the ground. But when you break down all of the activities in smaller building blocks, it is not as scary as it may seem.
There are a lot of reasons that business ideas don't get off the ground, but the biggest reason is that people don't test to see whether customers even want their product or service.
So they spend a lot of time, money, and resources on building their business, only to find out later that nobody wants to buy.
So if you really want to take your idea and build a profitable business out of it, the most important thing for you to do is to validate that people are interested in what you have to offer and that they will pay for it.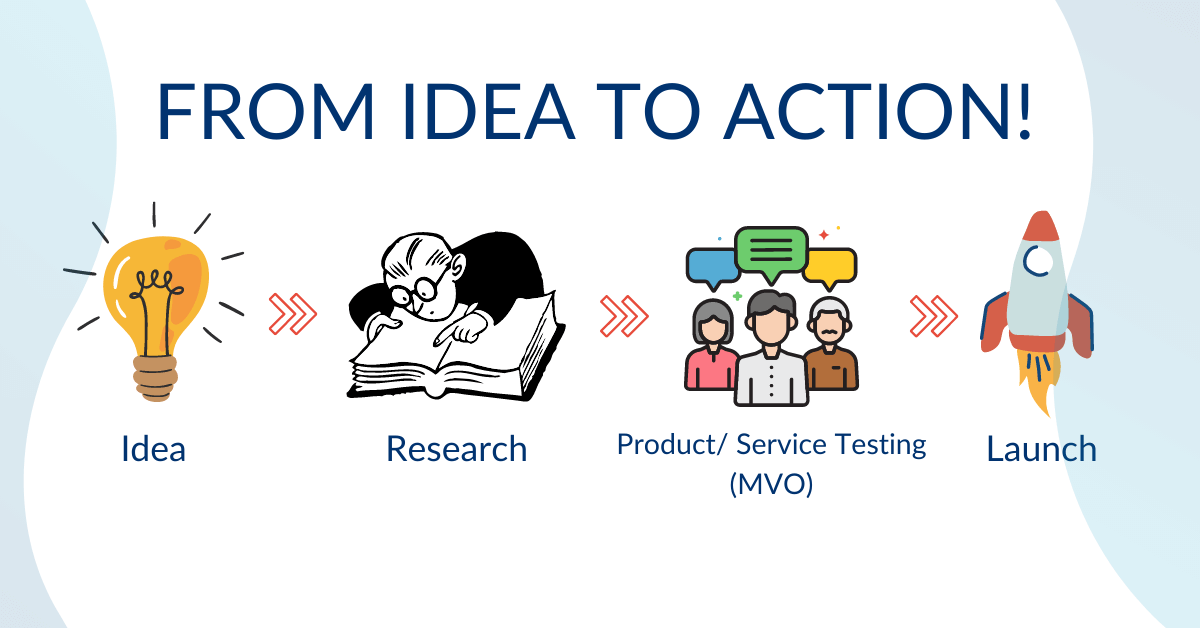 Some things to take into consideration are:
Understand Customer Problems
First, you need to understand the problem your customers are having by starting market research and get behind your customers' wants, needs, and desires. You need to identify your target market and know to whom exactly you are selling.
Your job is to research the market's problems, needs, and desires. You need to get outside or your own head because you're not your customers.
Here are a few things you need to do to get you started:
Find top influencers – find the top 10 influencers in this niche. Who are the gurus and the leaders? Who do other people look up to in this niche? Check out their social media profiles. What things are they saying? What things are getting the most likes?

Research blogs – read the top 10 blogs in this niche and see what they have in common. Look at the most popular post on those blogs and check the comments sections. What are people saying? What are people agreeing on and what are they mostly complaining about
Find Top FB Groups – find the top 10 FB groups related to that niche. Start doing research and see where there are the most members in the group and start joining these groups. Start looking at the posts and members' comments.
Remember to write these things down as you go along because you will be able to re-use some of these further down the line.
Second, you need to identify your top 10 competitors, analyze their content, SEO, and social media to get a really good understanding of what others are doing in these areas. During your research, the key here is to identify areas for improvement so you can start doing it better.
There are many ways to identify key competitors in your industry, but Google will likely be where you begin your research. Start with a simple search around overarching business ideas
Third, you need to talk to your customers and get feedback from them to really understand the depth of the problems that the customer is facing.
There are many ways that you can talk to your customers to get feedback. 
A few things that you can do right away are:
Creating a survey 
Conducting customer interviews
For a further in depth analysis on how to create a business plan, take a look at our dedicated blog article on the 7 key steps to create a business plan
A Few Business Ideas To Help You Get Started: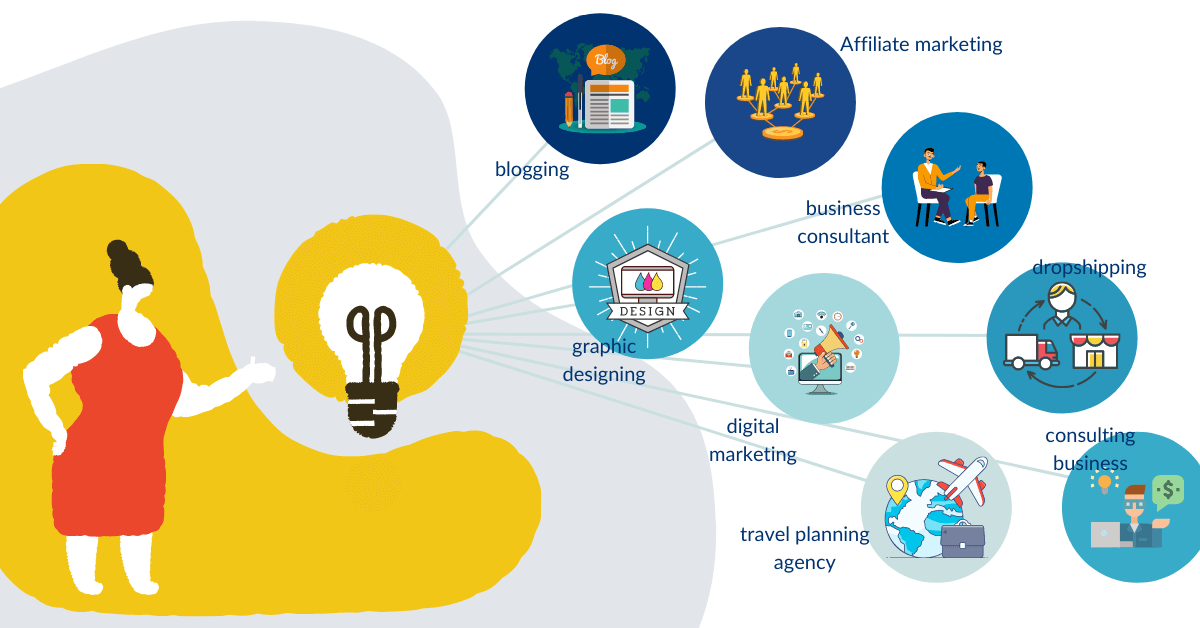 We talked about what it takes to start a business and some steps to take before you even start. But let's say that you do not have a business plan at the back of your head. You must be thinking "Okay what now?" How to start an online business without investment?
1. Become a blogger
This is a great way to start a business with no money. There are various free platforms to get started like WordPress for example which is one of the most popular ones.
Wedevs offers a great in depth explanation on how to start a blog.

Let's take a look:
So, how can you open a blog and monetize it to get some cash? It's not that tough. 
WordPress is the most popular and user-friendly stage where it will take a few minutes to create and host a blog. 
But, like any other successful online businesses, you have to work dedicatedly and provide appropriate time. 
Before starting, you need to:
Select a suitable niche. 

Have adequate knowledge about the niche you choose. 

Select an appropriate platform to host your blog. 

Go for a catchy yet simple template and customize your blog. 

Create the right content for the blog. 

Promote the blog! 

To monetize your blog, you have got several options: 
2. Start Affiliate Marketing
Affiliate marketing is another great idea on how to start a business with no money.
Okay now a lot of you might be wondering what Affiliate Marketing is.

Affiliate marketing is a type of performance-based marketing in which a business rewards one or more affiliates for each visitor or customer brought by the affiliate's own marketing efforts
It is a popular method to produce considerable online revenue and drive sales. 
As an affiliate marketer, you get to earn a specific commission by marketing products from another brand or a person. 
What you need to do is to search for any product you like and promote it to get profit from each transaction. These sales get tracked with the help of affiliate links from the websites. 
Three different parties are involved in this marketing:
Product creator or seller:
The seller/ brand is the one with the product and doesn't need to be directly involved with the marketing. 
The advertiser (affiliate) is the one promoting the product to the consumers by sharing the content on various social media platforms, websites, and blogs. 
Who buys from the advertisers. 
The main thing to do is to persuade potential buyers to purchase it. If the product is purchased, the affiliate gets a commission. Some marketers are upfront with the customers that they'll receive a commission. 
As an Affiliate Marketer you are paid in three ways:
1. Pay Per Sale: 
Where the merchant or brand will pay the advertiser a share from the product's selling price. 
2. PPC or Pay Per Click: 
It is an incentive where the customers from the affiliate's website are redirected to the brand's site by clicking the product link. 
3. Pay Per Lead: 
It is where the advertiser gets compensation depending on the lead conversion. Here the affiliate will need to persuade the audience to visit the merchant's site to carry out actions such as subscribing or filling out a contact form. 
Some common affiliate channels are bloggers, influencers, media websites, and email lists.
So there you go, this is why Affiliate Marketing is a great way on how to start an online business for free and how you can get on started with it
3. Become a business consultant
That's another great idea to start an online business with no money. People always need help and advice, and if you've got experience in a certain field, why not offer them your expertise as a consultant? 
All you need to get started are your experience and skill set. Who you're able to consult for depends on your background, but I guarantee there are those in your field who could benefit from your help.
4. Get Started With Dropshipping
I'm sure you are wondering what Dropshipping is and what it has to do with how to start an online business for free.

Well The Balance Small Business offers a great article which is quite interesting to read and offers a lot of intake on dropshipping. 
What is Dropshipping?
Let's have a look: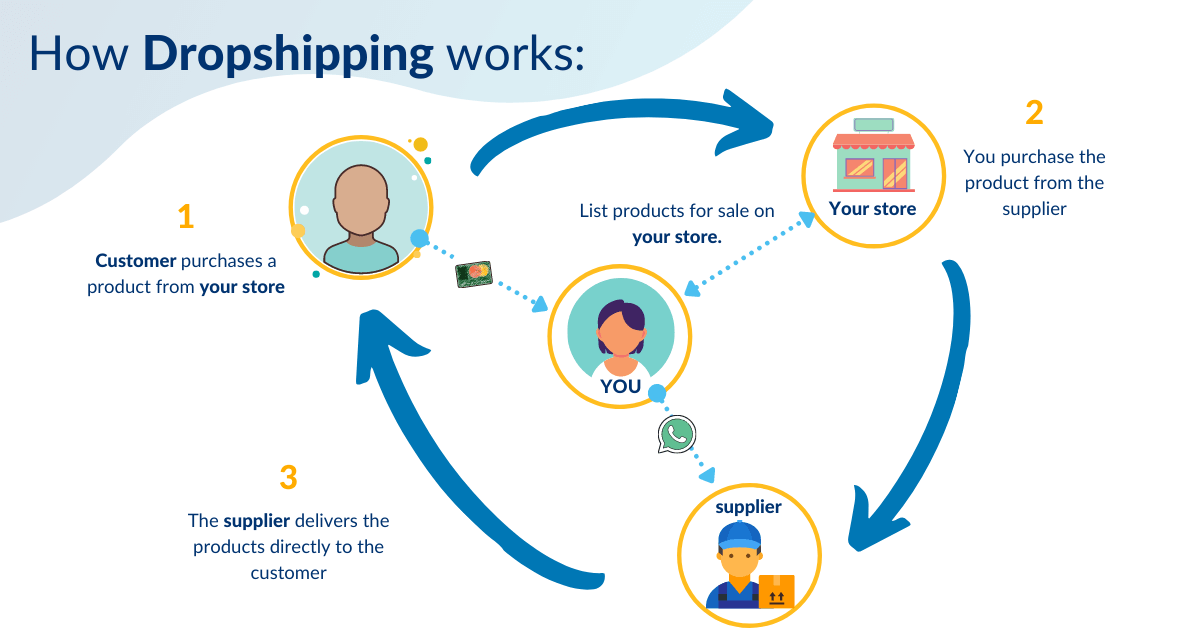 The basic idea behind an online drop shipping business is that, as a small business owner, you don't have to maintain a large inventory (or any inventory whatsoever) of products or handle any delivery to your customers. That eliminates the financial cost and risk of having a warehouse full of stuff you might not sell, and the hassle of arranging to send orders all over the country or the world. In fact, you don't have to manufacture or store any products at all.
The only thing you have to focus on is marketing and advertising to find the customers and make the sales. Once the sale is made the rest is handled by others. Your only cost is the expense of marketing and advertising to acquire a new customer.
Once that is done, you'll work with a company that specializes in drop shipping. Here's how it works:
You list products for sale on your website or a platform like Amazon, eBay, or Etsy.

When one of your customers makes a purchase, you purchase the product from a third-party company (the drop shipper, usually a manufacturer or wholesaler) for a lower price. This process is as simple as forwarding the order from your customer, a process that can actually be completely automated. (Remember you don't have any risk here of buying inventory because the sale has already been made).

Your drop shipper then sends the product to the customer.
Easy enough, right? With drop shipping, you can offer a wide range of products, so the operating expenses for your business are super low.
How to stand out from the competition.
One way to stand out from the competition with a drop shipping business is to private label your products.
This simply means you put your own label/brand on the products that the manufacturer is creating.

That way you're not selling the same product brand and just competing on price; rather you can use your own brand and face less competition.

Think about when you're looking at medicine at the pharmacy; the brand names sell for higher prices and people think they are different from the generic brands even though the ingredients are exactly the same
A great thing to consider is using Amazon to start with Dropshipping because it is an established marketplace that people already trust and has an existing customer base.

Eventually though, you should consider having your own online store as well.
5. Start Α Consulting Business
Let's say that you have some significant experience in or knowledge of a specific subject, then a great business idea is becoming a consultant. Perhaps you have a knack for SEO, or have led multiple sales teams to success. Identify your expertise and market yourself as a consultant and charge the going rate. In that way you can start earning money and start your own travelpreneur business
6. Start Graphic Design Agency 
Businesses are always in need of graphic designers to help them convey information visually through logos, advertisements, blogs, websites, and others.
While it is possible to be a self-taught graphic designer, most have either a certification or a degree. Owning such can help you a lot with not just the skills but with the overall workload itself.
Other than the cost of design software, this business has very little overhead and can be done anywhere with a dedicated computer.
If you have the type of graphic design skills businesses need and you have the resources to buy the software you need to get started, this might be the best Travelpreneur business idea for you!
7. Become a digital marketer
Let's take a look at what failory has to say about it:
Digital marketing is also becoming increasingly popular.

It is a great way to start a business with no money , but there is a pretty steep learning curve. It is an  ever-changing  field.

Social media marketing is part of digital marketing; pick the platform you are most comfortable with and learn everything about it you can.

Once you know more than the average bear, jump in.

Get an internship if you can (you can get one on a tool like Acadium), find a mentor and get started with your digital marketing career
8. Start a Travel Planning Business
What a great business idea to start the Travelpreneur lifestyle!
I know that you're probably thinking that the time of the travel agent has passed, but people are still looking for those with a knack for more nontraditional travel coordination. If you always plan the perfect vacations complete with beautiful hotels, the ideal location, and a bevy of delicious restaurants lined up for every evening, consider advertising your services as a more modern approach to travel planning
Find the best business idea that works for you 
So we've talked about some business ideas on how to start an online business with no money , but what if none of these business ideas works for you? What if you don't see yourself running any of these types of businesses?
Well, there's no need to worry because we've got you covered. Did you know that there's a free guide to define and visualize your key business activities? And here's the best part: It's completely free!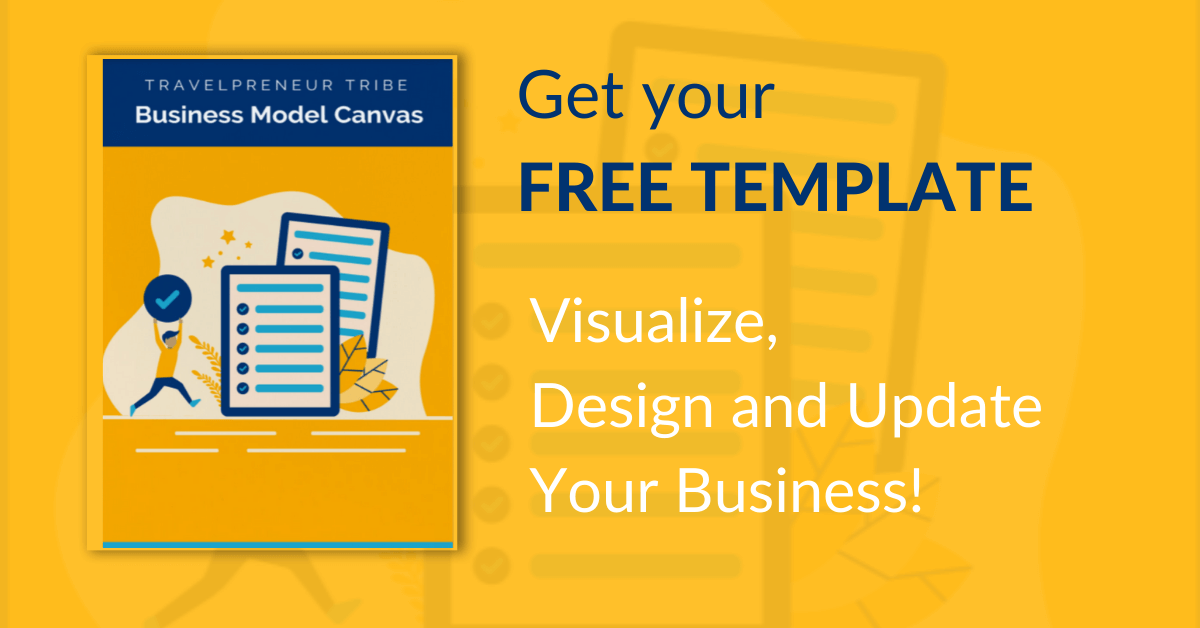 With the Business Model Canvas you can actually visualize, design and update your business model as you go. It helps you identify key elements of your business like Key Resources, Key Activities and even Revenue Streams.

Be sure to get your free template and bring your business idea to life!

PS.
If you're a fan of videos then be sure to check out our YouTube video explaining all about it.
The bottom line 
In the end, you don't have to have an investment in order to start a business. There are plenty of businesses that you can start with no money. But the most important thing is, are you ready to take the next step and start an online business?

I am curious to hear your thoughts about it. Did you find this article helpful? Has any of these business ideas ever crossed your mind? And if so, what made the most sense to you and did you ever try to make these ideas a reality?
Let me know in the comments below or you can always reach out to me directly and I will be more than happy to help you out. Click here to get in touch.