An online business checklist is essential before beginning the process of starting your business. Let's face it: starting your own business online is not as hard as it sounds, but it will require a lot of hard work. However, setting up an online business is not as easy as it seems. There are so many factors to take into consideration that it makes it seem an impossible venture. Visit the blog to learn how to start an online business and a step-by-step guide. 
Identifying Your Target Audience & Conducting Market Research
When it comes to starting an online business, the first thing on an online business checklist is your target audience. By developing a strategy that focuses on your ideal customer, you'll be able to reach more people who are likely to be interested in what you have to offer.

Who are your ideal customers? What are their demographics, interests, and pain points? Creating buyer personas can help you visualize your target audience and tailor your marketing messages to their needs.

Conduct surveys, interviews, and focus groups to gather insights directly from your target audience. This will help you refine your business idea and ensure that you're offering products or services that meet their expectations.

Once you have identified your target audience, it's important to validate your business idea. Test your product or service with a small group of potential customers and gather feedback. This will help you make necessary improvements and ensure that there is a demand for your offering. By conducting thorough market research and identifying your target audience, you'll lay a solid foundation for your online business.
Choosing the right business model and niche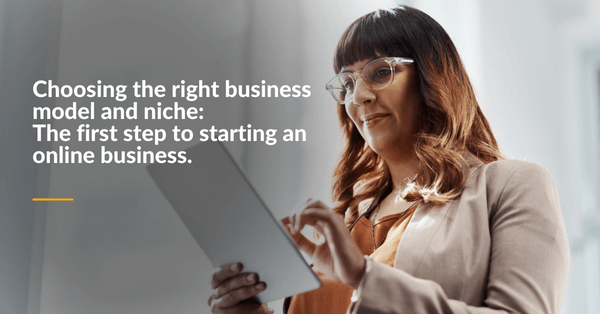 When starting an online business, it's important to choose the right business model and niche. The business model defines how you will generate revenue and deliver value to your customers.

There are several popular online business models to consider, such as e-commerce, subscription-based, dropshipping, affiliate marketing, and digital products.

Each model has its own advantages and challenges, so it's important to choose the one that aligns with your strengths and goals.

Once you have chosen a business model, it's time to narrow down your niche. A niche is a specific segment of the market that you will target with your products or services.

Choosing a niche allows you to focus your marketing efforts and differentiate yourself from competitors.

Consider your interests, expertise, and market demand when selecting your niche.

Conduct keyword research and analyze competition to ensure that there is room for your business to thrive.

Choosing the right business model and niche is crucial for your online business's success. It will help you position yourself as an expert in your field, attract the right audience, and stand out in a crowded market.
Creating a business plan and setting goals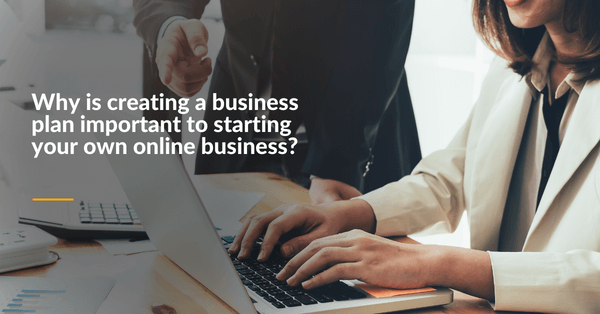 This is of utmost importance in the online business checklist. As we have explained in our blog, Business plans have long been a critical document for new businesses. What are the best practices and data that can help you create a winning document that will help your business get the funding you need and ensure your venture lasts?
You should have a plan in order to get yourself organized and to ensure that you have some type of viable commercial potential.
If your purpose is to raise funding, and your startup isn't going to go anywhere without it, then make sure you take time out to create it and relate in today's fundraising environment.
Having a business plan is essential for every company, regardless of its stage or size. While they are particularly valuable for new businesses, established companies should also maintain a business plan. The plan should be regularly reviewed and updated to align with the company's progress, accomplishments, and any changes in objectives.
Registering your business and legal considerations:
1. Business structure
According to WHN Solutions, thinking ahead and adopting the correct business structure at the outset will save trouble and expense in the future. While it's possible to change your business structure later, the more extensive your business affairs become, the more complex (and therefore expensive) this process is likely to be.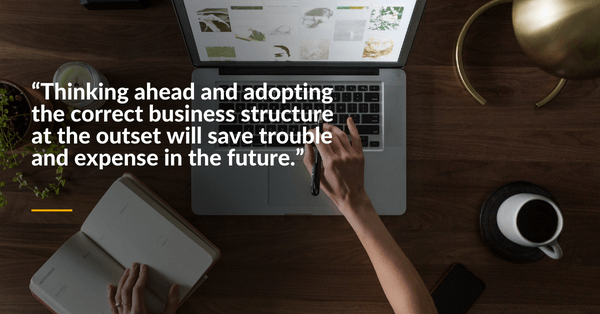 The main business structure options are:
Sole trader (if there is only one owner of the business) or general partnership (if there are two or more)

Limited liability partnership (LLP)

Limited liability company.



A major consideration is whether you want or need the protection of limited liability status. If you choose to operate as a sole trader or general partnership, you're assuming personal liability for the liabilities incurred in running the business. Therefore, if the business gets into financial difficulties and liabilities have been incurred, you will be personally responsible for them.
Similarly, if there is a claim made relating to the business (for example, a personal injury claim or claim for breach of contract) that is not covered by insurance, you will be personally liable. The claimant can, therefore obtain a judgment against you personally and enforce it against your assets, including your house. In more extreme cases, you could find yourself made bankrupt.
In contrast with an LLP or limited liability company, these liabilities generally rest with the LLP or company. But there are exceptions to this. You will still be personally responsible for any liabilities you have chosen to personally guarantee. For example, if, as a new business, you look to borrow money from a bank, personal guarantees are likely to be required if you choose to use an LLP or limited liability company.
For most businesses, ensuring you obtain limited liability status will be prudent and give significant peace of mind.
Tax considerations are also an important factor in deciding which structure you adopt, with significant differences in how companies and LLPs are taxed.
It's also important to consider what plans you have for the business. There are substantial differences between companies and LLPs in terms of how they operate and your plans for the future may help determine your choice. For example, if you foresee you are likely to want to institute a share ownership scheme for employees, you may decide a limited liability company is the better vehicle.
Receiving expert legal and accountancy advice on these issues when setting up is extremely important to avoid making the wrong choice of structure.
2. Register Your Business Name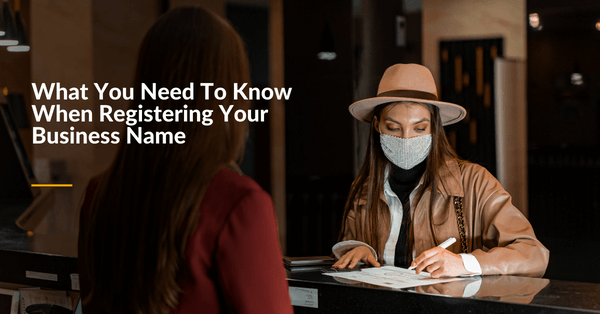 According to MBO partners, When opting for a Sole Proprietorship to run your business, it automatically assumes the name of the owner's legal name. For instance, if your name is Adam Jensen and you establish a consulting company, the business will be legally recognized as "Adam Jensen." Nevertheless, if you prefer to operate under a different name, such as "Adam Jensen Consulting," you'll have to register it as a Doing Business As (DBA) name.
This process lets your state or local government know the name you are operating your business under. This allows you to create and use the name you want for branding purposes without having to incorporate. Specific DBA registration rules vary from state to state.
For those who are filing a legal entity, an application must be filed with your state for either Articles of Incorporation or Articles of Organization. Whether you choose an LLC, S Corp, or C-Corp in step one above, you will need to file a name for the company with your state.
3. Learn About Taxes
As an example, taxation of incomes is not the sole tax obligation you may have, making it aware of every tax requirement. Most independent contractors are considered self-employed and are thus responsible for paying Self-Employment (SE) Tax which you can find all about in the official IRS website.
However, your tax situation may vary depending on factors such as your business structure, which can influence the types of taxes you need to pay. Additionally, the profitability of your business in the previous year may also impact your tax obligations. So be sure to learn all about it before you get started.
4. Create Your Business Bank Account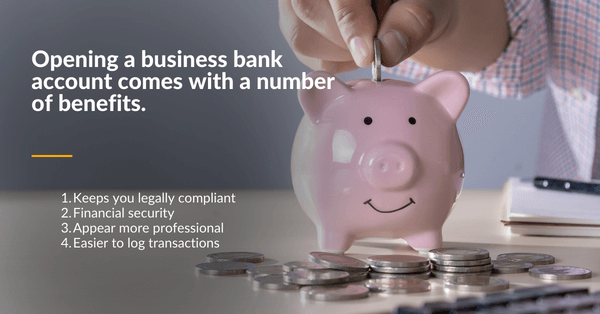 According to Chase, When starting out, many business owners use their personal bank accounts to accept and spend money for their business.

While it may, at first, seem more convenient to stick to your banking status quo, mixing these two accounts could cause some headaches in the long run.

Opening a business account comes with a number of benefits.

It can keep you legally compliant, provide some financial security and help you appear more professional to customers and vendors.

Plus, having one account for the sole purpose of collecting from customers and paying your vendors makes it easier to log transactions and manage your business.

Consider these additional reasons to have a dedicated bank account for your business.
Building your online presence:
1. Website
Your website is the face of your online business and serves as a valuable marketing tool. It should be visually appealing, easy to navigate, and optimized for a seamless user experience. Here are some key considerations when building your website:
Choose a reliable website platform: Select a website platform that suits your needs, such as WordPress, Shopify, or Squarespace. Consider factors like ease of use, customization options, and scalability.
Design your website: Use professional and visually appealing templates or hire a web designer to create a custom design. Ensure that your website reflects your brand identity and resonates with your target audience.
Optimize for mobile devices: With the increasing use of smartphones, it's essential to have a mobile-friendly website. Optimize your website for different screen sizes and ensure fast loading times.
Create compelling content: Fill your website with high-quality content that showcases your products or services. Use persuasive copywriting techniques to communicate the value and benefits of your offerings.
 Incorporate search engine optimization (SEO): Implement SEO strategies to improve your website's visibility in search engine results. Conduct keyword research, optimize your meta tags, and create high-quality backlinks.
Integrate analytics and tracking: Install analytics tools like Google Analytics to track website performance, user behavior, and conversion rates. Use this data to make data-driven decisions and optimize your website.
2. Setting up your online store or website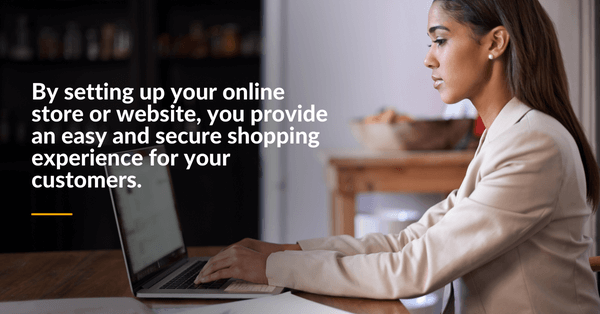 Once you have built your online presence, it's time to set up your online store or website. This is where you display and sell your products or services. The specific steps and tools required depend on your business model and industry. Here are some key considerations:
Choose an e-commerce platform: Select an e-commerce platform that suits your needs and budget. Popular options include Shopify, WooCommerce, BigCommerce, and Magento. Consider factors like ease of use, scalability, payment options, and integrations.
Set up product listings: Create detailed and persuasive product descriptions that highlight the features and benefits of your offerings. Use high-quality images or videos to showcase your products.
 Enable secure online payments: Set up secure payment gateways to accept online payments from customers. Offer various payment options like credit cards, PayPal, Apple Pay, or cryptocurrencies.
Test the checkout process: Conduct thorough testing to ensure that your checkout process is smooth and error-free. Address any issues or barriers that may hinder customers from completing their purchase.
Implement website security measures: Protect your online store from security threats by implementing SSL certificates, regular backups, and secure passwords. Use security plugins or consult with a web developer for additional measures.
By setting up your online store or website, you provide an easy and secure shopping experience for your customers. This builds trust, encourages repeat purchases, and sets the stage for business growth.
Conclusion
Having a checklist is a great way to make sure you don't forget any important steps. We hope this checklist has helped you get a better sense of the different things you should do to start your online business. We would love to hear your feedback on the checklist in the comment section below! If you have any questions about starting an online business, please contact us here.
Thanks for reading, and good luck with your online business!

Before you go, I want to offer you something. It is a 3-month 1:1 coaching accelerator program for anyone who wants to learn how to validate and launch their business idea the proper way. It is specifically designed to help you validate your business idea BEFORE you even start building your product or service.
At the end of the course, you will have a profitable business idea that you can take to the market. And not only that, but you will have a clear understanding of how to successfully pre-sell your digital product or service to your IDEAL audience.
It STOPS you from wasting your time, money, energy, and resources on building a business that WON'T ever sell.
You can read more about it here.