Have you ever looked around and wondered why you can't have the life and business you want? Have you ever felt like you're stuck in a 9 to 5 office job and have you ever felt like you're being pigeonholed in your life? That you're stuck in a life that you don't really want? This blog is about how you can create your own location-independent business and break free of the 9 to 5.
Why create a location independent business?
You work from where you want
Wouldn't it be a wonderful prospect to have the ability to work from any corner of the globe? Well, that's what a location-independent business is all about.

All you require is a laptop and access to Wireless internet and you're good to go!

Even in places where Wi-Fi might be scarce, you can effortlessly set up your own hotspot using a suitable mobile phone contract.

For instance, I adore working in various settings like co-working spaces, cozy cafés, and even beach bars.

My now well-equipped home office has become a frequent workplace for me. The beauty of being a digital nomad is the freedom to choose the perfect location that suits your preferences.

You are unbound and liberated. However, it's worth noting that working from familiar surroundings at home is not only sustainable but also provides a sense of comfort and stability.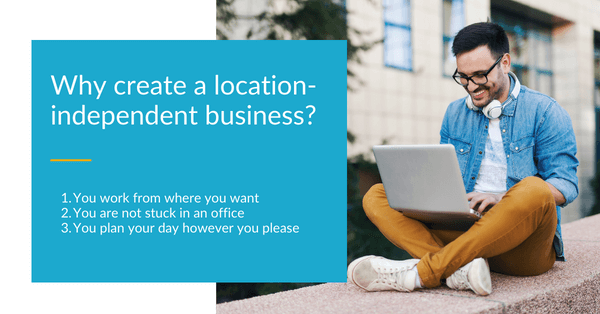 You are not stuck in an office.
Day after day, confined to the same office, in the same chair, surrounded by colleagues, my inner creativity yearned to break free. Unfortunately, the monotonous routine and unvarying sameness of it all served as stifling constraints, preventing me from unleashing my full potential. While this may not be the case for everyone, it certainly held true for me.
Thankfully, by having a location-independent business, I am no longer confined to the same office walls day in and day out, I find myself traversing different places, encountering new faces each day.

Gone are the frustrating moments when the sun beckons outside, yet I must remain indoors at the office.

Now, I embrace the flexibility to adapt to the weather, relishing the opportunity to bask in the sunshine while working a bit more into the night, if I so choose. This newfound liberty allows me to strike a harmonious balance between work and enjoyment.
You plan your day however you please.
In the daily grind of office life, you are stuck within the rigid 9 a.m. to 5 p.m. system, compelled to rise early and adhere to a fixed schedule. As soon as the clock strikes 5 p.m., work comes to an abrupt halt. While some individuals might find comfort in this structure, true flexibility presents a different picture.
However, for those who embrace location-independent work, the situation is entirely different.

You have the liberty to adjust your working hours, choosing to work a bit later when concentration levels are at their peak.

Another advantage of location-independent work is the ability to cancel unnecessary appointments that do not serve your purpose.

Each day can be thoughtfully tailored to your preferences, not confined within the constraints of the typical 9 a.m. to 5 p.m. timeframe.

This newfound flexibility allows for a more balanced and fulfilling work-life experience.
What are some location-independent business ideas?
I know a lot of you want to start a business but don't know where to begin. Don't worry because we're going to take a look at 5 location independent business ideas to get started: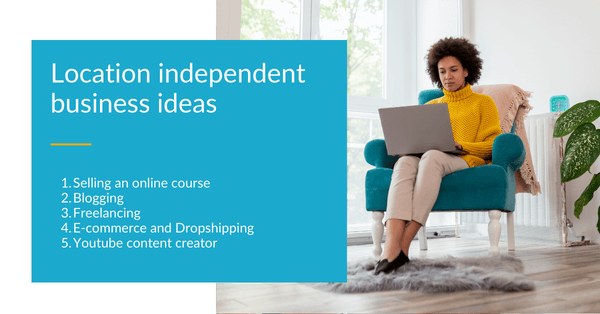 1. Create And Sell An Online Course
The digital age offers a remarkable opportunity for professionals with successful careers to create online courses and empower others to advance their own paths. In addition to possessing expert knowledge in your field, you'll need to consistently generate and refine media that effectively deliver the training—whether through videos, podcasts, or written guides.
One significant advantage of this remote business model is the potential for long-term passive income. Once you have developed high-quality educational content, it can continue to generate revenue for years to come.
As an online course provider, exploring platforms like Udemy, Skillshare, and Teachable can prove beneficial. These platforms provide an audience base and allow you to monetize your courses, setting you on the path to both professional fulfillment and financial success.
2. Become A Blogger
According to Thinkremote, being a blogger is almost a 24/7 job. You need to have exciting stories to tell and be constantly in the creative zone to develop different ideas. However, a lot of influencers have Instagram pages and websites.
Not only do they get followers interested in their lifestyle, but they also earn money by promoting products & services.
Brands reach out to bloggers to pay them money to advertise their products, and that's how they earn money: their business social media accounts. 
Average annual income: $37,073 (Indeed)
3. Become A Freelancer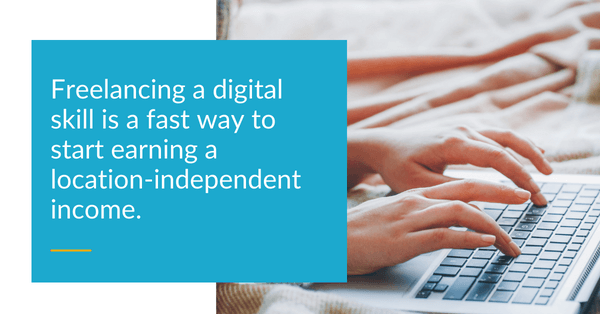 Word to travel has a great explanation on this:

As a freelancer, you act as an independent contractor for your clients. 
Freelancing a digital skill is a fast way to start earning a location-independent income. Some common freelancing services include:
Content writing

Copywriting

Graphic design

Web design

Proofreading
The best freelance service to offer is the one you already know how to do. And you don't have to limit yourself to the most common jobs, either.
Some freelancers focus on one-off projects, while others stick with clients who need ongoing help. Unless you love constantly marketing yourself, I suggest the latter.
4. E-commerce and dropshipping
E-commerce has exploded in recent years, and with the right strategy, you can tap into this lucrative market.

Dropshipping is a popular business model that allows you to sell products online without having to hold inventory. Instead, you work with suppliers who ship the products directly to your customers.

This eliminates the need for a physical store or warehouse, making it a perfect fit for a location-independent business.

With e-commerce platforms like Shopify and WooCommerce, setting up an online store has never been easier. You can choose to sell products you're passionate about, or identify profitable niches and source products accordingly.

With effective marketing and customer service, you can build a successful e-commerce business that generates passive income while you enjoy the freedom to work from anywhere in the world.
5. Start A YouTube Channel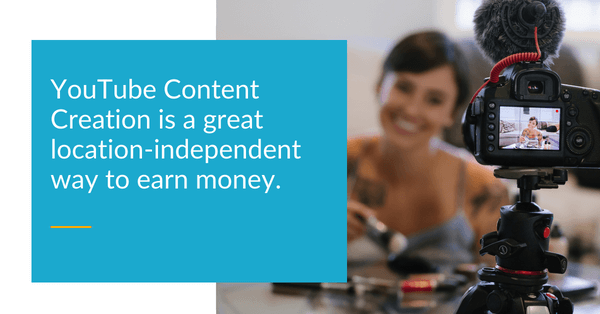 YouTuber Creators have collectively produced an impressive count of over 10,000 videos in YouTube Spaces.

Successful YouTubers have tapped into the vast ad revenue potential generated from video views, allowing them to earn substantial amounts.
The beauty of YouTube lies in its accessibility as a platform for content creation.

All it takes to get started is a camera and compelling topics within a specific niche. Keep in mind that creating an account and publishing videos are completely free.
To maximize earnings, the primary avenues are ad revenue and paid partnerships with brands. Securing such opportunities typically hinges on having a sizable following. Therefore, building a subscriber base necessitates producing innovative and engaging content regularly.
The key to succeeding on YouTube is discovering your niche. With countless craters on the platform, offering something distinct becomes essential. Traditional niches like lifestyle, health, fitness, and beauty are already highly competitive, so it's wise to explore unique and trending niches that can attract a dedicated following. Extensive research in finding the right niche will play a significant role in your journey to YouTube success.
Conclusion
There's a lot more going on in the world than just your home country. The Internet has opened up many doors previously closed to us – and this is just the beginning. You no longer need to be tied to an office job, doing the exact same thing you did the day before. The world is yours to explore and you don't need to be a millionaire to do it!
We hope this post has given you a good idea of what a location-independent business is and why you might want to create one. If you've been considering making the leap into location independence, we are excited to hear about the launch of your new location-independent business. We'd love to hear from you about your experience and answer any questions you might have. Please feel free to leave a comment below or reach out to us by completing this form here.
Before you go, I want to offer you something. It is a done-for-you service where we help you maximize your marketing and sales effectiveness by streamlining manual, tedious, and time-consuming tasks in the sales process so you can focus less on the admin work and more on selling.
It will save your business time and money and make your business more effective. 
We guide you through the process and help you set up the right tools for your company and price point so you can stay focused on things that really matter – building your business and making huge sales. 
Let us help you close more deals with marketing and sales automation!
You can read more about it here.