Are you tired of the 9-to-5 grind? Do you want to break free from the chains of a traditional job and become a travelpreneur? It's a growing trend where people choose to work remotely and travel the world, all while running their own business. If this sounds like your dream, then it's time to start thinking about your base. Choosing the right base is one of the most important decisions you'll make as a travelpreneur. Here are six key factors to consider:
1. Visa Requirements
Before you decide on a country to call your home base of operations, you need to research that country's visa requirements. You don't want to get stuck at the border because of a paperwork issue. Choose a country with realistic visa requirements and costs for your situation. If you're just starting out as a travelpreneur without any real savings to back you up, make sure to choose a country with a small visa application fee to minimize your financial risk.
2. Infrastructure
Consider your own limitations when it comes to comfort and convenience. Do you require 24/7 access to a cafe with free wifi and yummy coffee? Are you content to live in a straw hut? Things like running water, sleeping conditions, medical care, access to roads, public transportation, and other infrastructure elements will impact your travelpreneur lifestyle. Research your countries of interest to find out what amenities, public resources, community services and infrastructure are available there.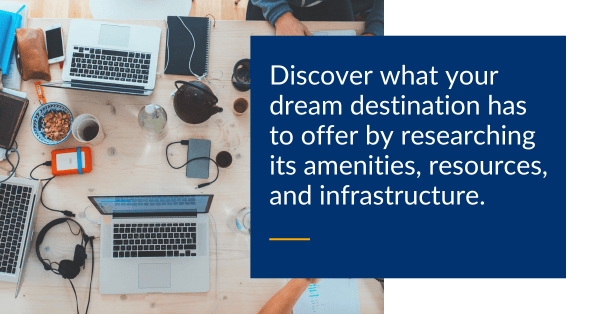 3. Cost of Living
Evaluate your current financial situation and figure out the affordability of your country of interest. It's worth noting that currency exchange rates can drastically affect your travel budget. For example, if you're coming from the United States or Europe, the US dollar (USD) or Euro are strong currencies compared with many others around the world. Determine how far your cash is likely to go once you get there.
4. Safety
The safety of the region you plan to visit is the most important concern when traveling anywhere. If you are planning to adopt the travelpreneur lifestyle and travel solo, it is crucial to choose a destination that offers very little risk to your safety and health. Always tell a trusted friend or family member about where you plan to go, how long you plan to stay, and when you're in transit. That way, if something happens, you've got a contact who knows where you should be and how to locate you.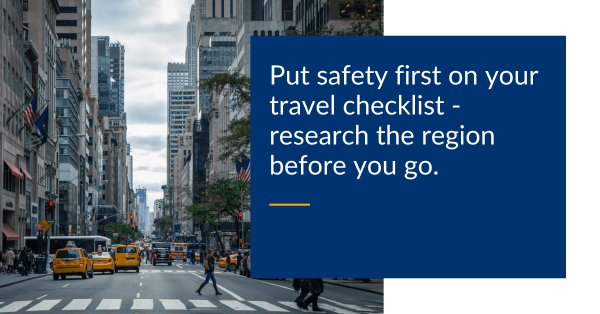 5. Co-working Spaces
Co-working spaces are safe and reliable places with solid internet connectivity to get work done without breaking the bank. If you're someone who needs little to no distraction to focus on your work, a shared office space could be better for you than a noisy cafe.
6. Things to Do
As a travelpreneur, you may find yourself dwelling in your chosen place for a decent period of time. It's safe to assume you'll be submerging yourself in the local culture. What sorts of activities are on offer in your chosen location? No matter where you choose, you'll want to make sure not to leave yourself bored or, on the contrary, on sensory overload. Pick your base that offers a good balance of nature, culture, cuisine, and activities to suit your tastes and preferences.
In conclusion, choosing the right base is an essential step in becoming a successful travelpreneur. Consider the visa requirements, infrastructure, cost of living, safety, co-working spaces, and things to do in your country of interest. By doing your research and choosing wisely, you'll be well on your way to living your dream travelpreneur lifestyle!